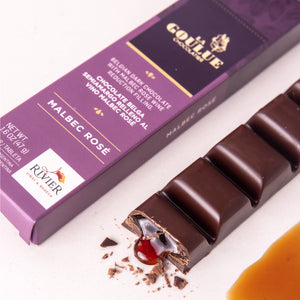 🍫🍷 INTERNATIONAL CHOCOLATE AWARDS WINNER IN 2016 AND 2017. Gold and Silver Medals

🍫🍷 GOURMET BELGIAN CHOCOLATES - gift box for special ocasions: Gift baskets for women, Special Gifts, For Sister, Father's Day. Father. Dad. Couple, Party, Meetings, birthday box food gift. Gift basket. Gourmet candy. Valentines Day

🍫🍷 ARGENTINIAN WINES FILLINGS- Liquor. Hand-Crafted.

🍫🍷 NO PRESERVATIVES, non additives, natural and authentic flavor. non-alcoholic syrup.
New Belgian dark chocolate (55% cocoa content) bar with Malbec Rose wine reduction filling
47g (1.6Oz)